[Quick Facts]
Main Ingredients: Basmati Rice, Chickpeas, Onions, Garlic, Ginger, Various Spices
Time Required: 1.0 hours
Serves: 15
Ingredients:
2.5 Mugs full of Basmati Rice
2 Mugs full of Chickpeas
3 Medium sized Onions, finely chopped
1/4 Bulb of fresh Garlic, crushed
1/2 Cup cooking oil  (~118ml)
1.5 inch piece of fresh Ginger, finely chopped
1 Star Anise
10 corns of Whole Black Pepper
6 Cloves (Laung)
4 Cinnamon Sticks (Dalchini)
1 Tablespoon Whole Cumin Seeds (Jeera)
3 Black Cardamoms (Black Elaichi), cracked open
1 Teaspoon Salt

Instructions

(1) Heat oil on medium heat (should not be so hot that oil starts smoking)
(2) Add Onion and fry until brown, stir frequently
(3) Add Garlic and Ginger and fry some more. Add all the spices.
(4) Preparing Chickpeas: (a) Soak Chickpeas in water overnight and then cook in pressure cooker for 15 minutes (b) Alternatively, use canned boiled Chickpeas
(5) Add Chickpeas, 5 cups of water and Salt
(6) Soak Rice in water for few minutes and then strain it and add the rice to the pot
(7) Bring to boil on high heat
(8) Cook on low heat until the Rice is ready
Serve with curry of your choice.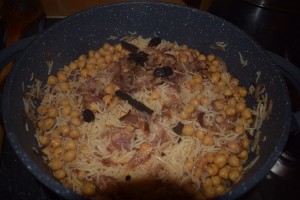 Related Reading:
Discover Pakistan!: Learn 30 Breathtaking Pakistani Food Recipes in this Pakistani Cookbook
If you have ever had Pakistani Food, you would know that though the actual recipes differ per region the one common denominator in all their dishes is... Read More >
Pakistani Cookbook: Mouthwatering Pakistani Recipes for the Whole Family
Complete with 30 full magnificent Pakistani recipes that will put the joy back in the kitchen. This Pakistani Cookbook provides delicious and easy to ... Read More >
Paklish Cooking 101: Pakistani Family Recipes with an American Twist
Marsha Marie lived in Pakistan for nearly two decades and learnt to cook in this most authentic setting. See how she adopted these Pakistani time-held recipes as her own in this amazing American family cookbook.